International Department
Add: Yanta road yanshan county cangzhou city hebei province
Tel: +86-311-89640267
Fax: +86-311-67961898
Web:http://www.hengjiapipe.com
E-mail:
info@hengjiapipe.com
Seamless Steel Pipe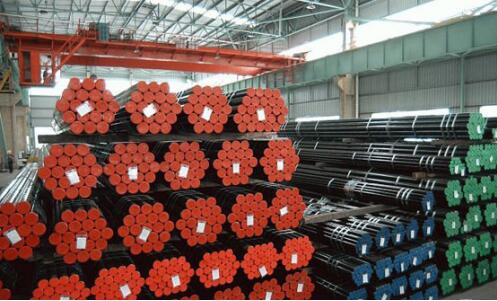 Details of the introduction
Pipe is a hollow tube with round cross section for the conveyance fluids, gas, pellets, powders and more. Seamless steel pipe is a hollow section, no seams around the circum. 
Usage: Applicable to the general structure, mechanical structure,such as petroleum drilling pipe, auto transmission shaft, bicycle frame and construction  
Quality Standard: 
ASTM A 53 Standard Specification for Pipe, Steel, Black and Hot-Dipped, Zinc-Coated, Welded and Seamless
ASTM A519 Seamless Carbon and Alloy Steel Mechanical Tubing 
ASTM A106 Seamless Carbon Steel Pipes for transportation 
GB/T8162 Seamless Steel Tubes for Structural Purposes
DIN 2391 Seamless Precision Steel Tubes 
EN10305 Steel tubes for precision applications. Technical delivery conditions. Seamless cold drawn tubes
EN 10210:Seamless structural steel pipes 
Steel Grade: 
ASTM A 53: Grade A, Grade B, Grade C, Type F, Type E
API5L GRB, X42 X52,X56,X60,X65,X70,X80
ASTM A335 P12,P11,P22,P5,P9,P91
ASTM A519: 1010-1045, 4130-4142, 5135
GB/T8162: 10, 20, 35, 45, 16Mn, 12C rMo, 15CrMo, 12C rl MoV
JIS G3441: SCM 415 TK, SCM 418 TK, SCM 420 TK, SCM 430 TK, SCM 435 TK, SCM 440 TK 
JIS G3444: STKM 11A, STKM 12, STKM 13, STKM 14, STKM 15, STKM 16, STKM 17, STKM 18
STKM 19, STKM 20
DIN 2391: St30Si, St30A1, St35, St45, St52
EN10305: E235, E355 
EN 10210: S235JRH; S275J0H, S275J2H; S355J0H, S355J2H; S275NH, S355NH; S275NLH, S355NLH
Size: 
Outer Diameter:Hot finish: 2" - 30",Cold drawn: 0.875" - 18"
Wall Thickness:Hot finish: 0.250" - 4.00",Cold drawn:0.035" - 0.875"
Length: Random Length, Fixed Length, SRL, DRL 
Surface treatment: Transparent oil, rust-proof  black oil or hot galvanized
End:Plain end,Beveled end
Packaging: Plastic pipe cap and steel strips bundled
SSAW Steel Pipe
Next:
Coupling
Share to: